Riding the South

The blog of Scott and Jenny Morris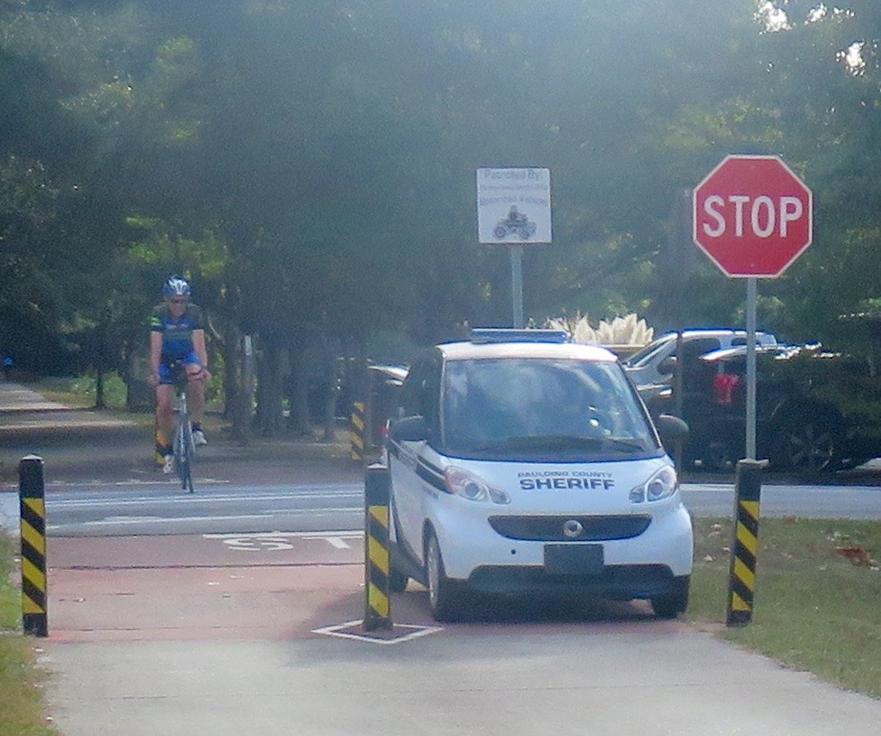 Don't believe the cycling jersey. These guys can still pedal hard and leave you gasping for breath.
Members of the Old Farts Bicycle Club gather outside Atlanta for their 30th anniversary ride on the Silver Comet.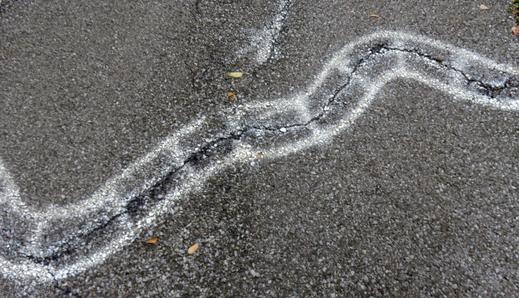 A downtown building in Cedartown, Georgia. The trail has a few primitive campgrounds, but Cedartown is a good place to spend the night if you prefer a hotel room and restaurants.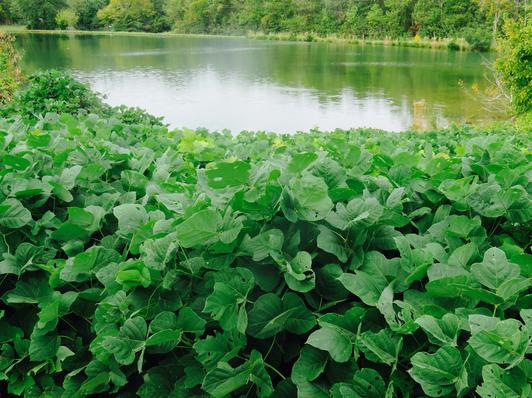 Day 4
Cedartown to Anniston
44 miles

The next morning, steady rain was falling when I set out on the final leg home. It was cool enough to wear my rain jacket and waterproof helmet cover without overheating.

I talked to another rider who was nursing fresh bruises and road rash from a crash he suffered on a slippery section. When it's raining, it's best to walk your bike across any wooden decking on bridges and boardwalks. It also requires caution on road crossings where the painted trail markings become slick.

I stopped at the state-line picnic area for an oatmeal raisin Clif bar, and again at Piedmont to fill my water bottles before heading toward Jacksonville.

I was now in the cycling zone, cruising effortlessly at about 16 mph. You might say I was floating like a butterfly when I got stung by a bee.

I spit out the bee and kept pedaling. The pain was severe. Even my teeth hurt. But I had 15 miles to go. Then, my tongue started swelling until I could hardly swallow my sports drink. I began to wonder if my throat would completely close. I began to wonder if I should head for a doc in a box. I began to wonder if I would wake up in a hospital.

I stopped at the depot in Jacksonville, went to the restroom mirror and stuck out my tongue. The swelling was impressive, and a bit scary. But I got back on the bike and finished the ride.

After loading the bicycle on the truck, I drove to a drugstore to buy Benadryl for the bee poison and cold-sore medicine for the painful wound.

As I write this blog post three days later, my tongue still hurts. I feel a bit sickly all over. But I know the pain will pass and leave me with nothing but fond memories of the 175-tour from Anniston to the outskirts of Atlanta. And we OFBC members will have another story to retell when we transition from pedals to rockers.


The Chief Ladiga and Silver Comet Trails combine for more than 90 miles of paved paths. The trails are expanding in both Alabama and Georgia.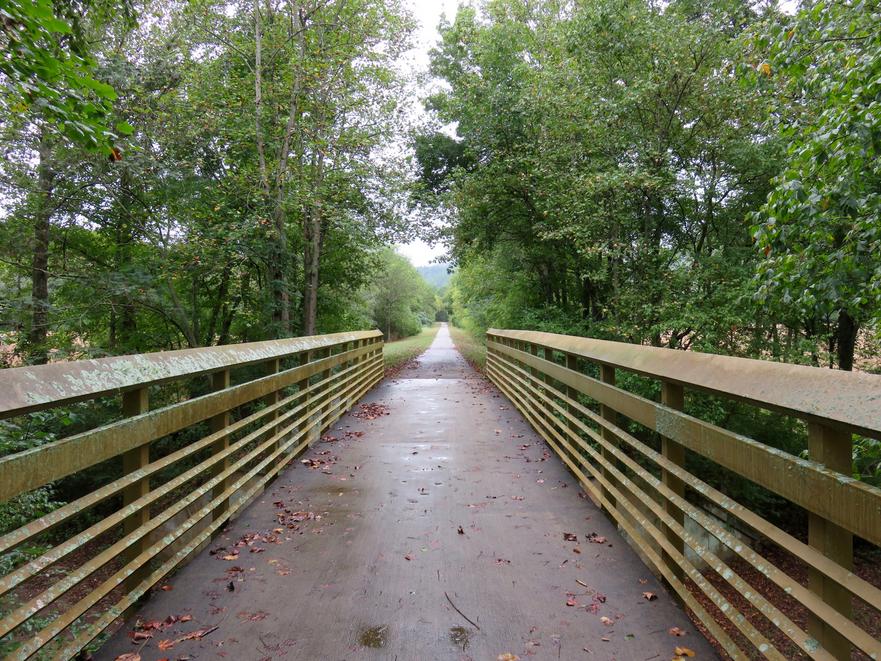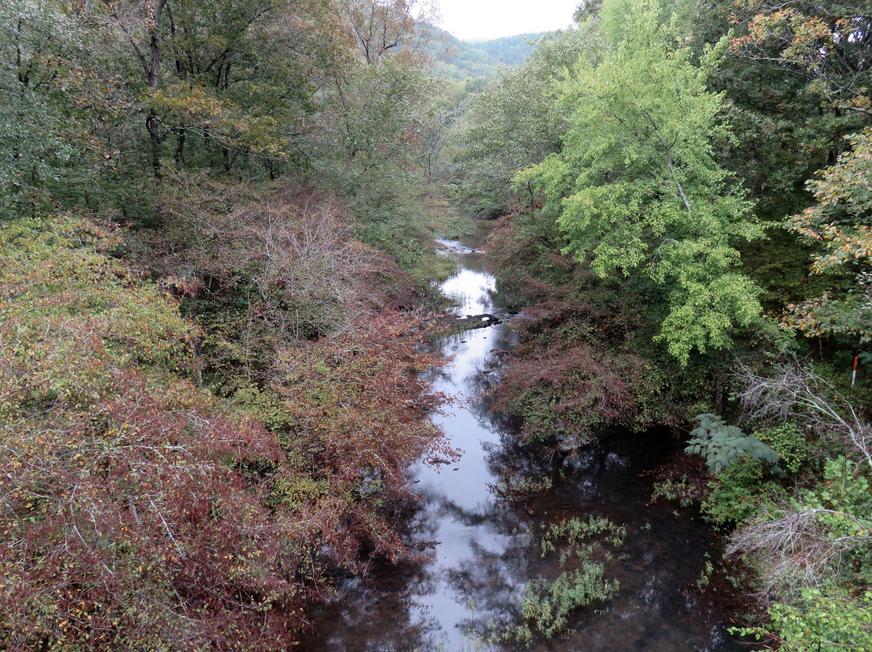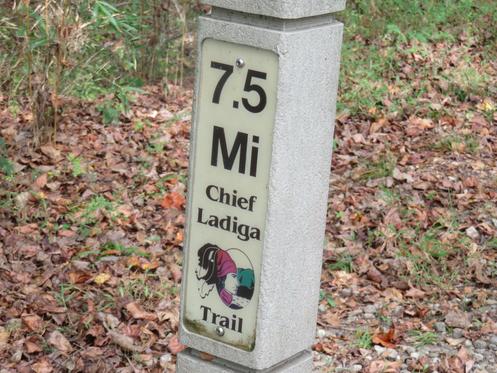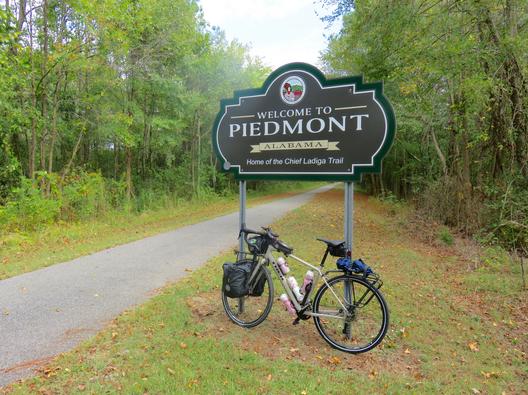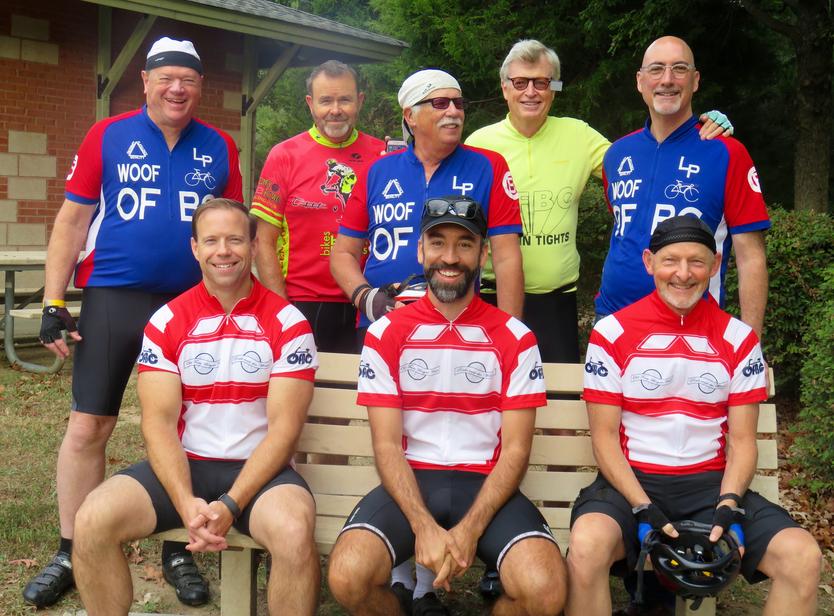 A sheriff's deputy patrols the Silver Comet Trail in a Smart car, west of Atlanta. Hundreds of cyclists, walkers and runners use the trail here on weekends.
By Scott Morris

The bee flew straight into my mouth and stung my tongue.

First came the sharp pain. Then came the swelling, making it nearly impossible to swallow.

About this time I thought my four-day cycling tour of the Chief Ladiga/Silver Comet trail would lead to the emergency room.

Before I get too far ahead of myself, however, I should note the bee comes at the end of this story. The beginning was more than three decades ago when a group of men in Georgia founded a distinguished sporting organization.

"In 1988 in Marietta, four friends who shared a love of cycling formed the Old Farts Bicycle Club," said founding member and club marketing director Ray Davis, of Staunton, Virginia.

After I became friends with another founding member — Wayne Williams, of Florence, Alabama — the OFBC allowed me to join their 2012 tour of the Natchez Trace Parkway. They dubbed me "The Kid" because I'm much, much, much younger than any of the other members.

Ray invited me to attend the OFBC's recent 30th anniversary celebration in Marietta. I decided to ride my bike to the reunion and back on the Chief Ladiga/Silver Comet trail.

About 93 miles of the paved pathway are open from Anniston, Alabama, to Smyrna, Georgia. Local governments are working to extend the trail on both the Alabama and Georgia ends, including a loop around Atlanta.

Day 1
Anniston to Rockmart
59 miles

I parked my truck at Anniston's Woodland Park and set out for Rockmart, Georgia, on my touring bike.

I have ridden the Chief Ladiga Trail, as it is called in Alabama, several times, but the trail never grows old for me. Apparently this is true for others, including a retiree who told me he rides the path 300 miles a week.

Work crews recently repaved the trail from the eastern outskirts of Anniston through the town of Weaver, making for a smooth ride. Farther east, however, tree roots are pushing through the older pavement and forming dangerous bumps that are big enough to ruin a bike wheel or cause a crash.

Individual towns and counties are responsible for maintaining the trail as it passes through their jurisdiction. A welcome-center worker told me the various entities are seeking grants to cut the roots and repave the damaged sections.


Fall colors are beginning to appear along the Chief Ladiga Trail. Late October and early November are the best times to visit.
The Chief Ladiga Trail features many stream crossings on old railroad bridges between the Georgia state line and Piedmont, Alabama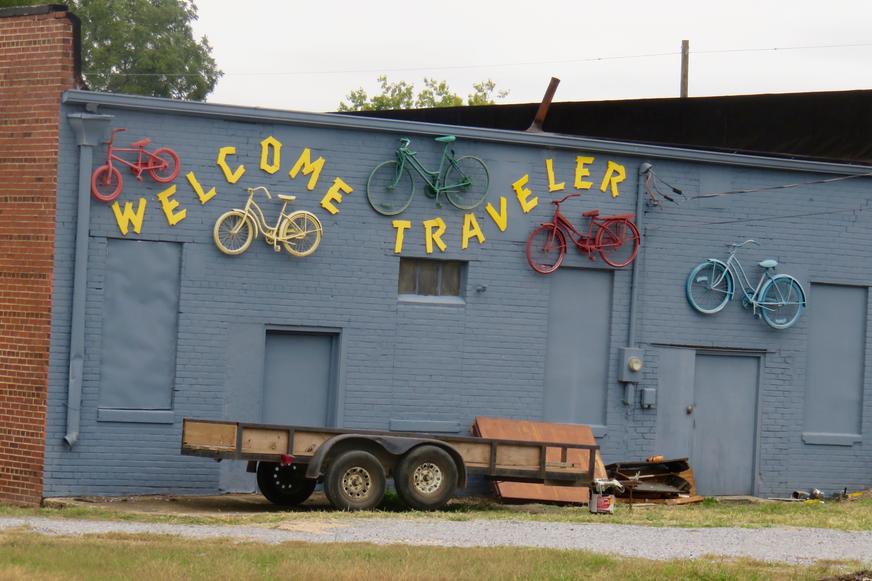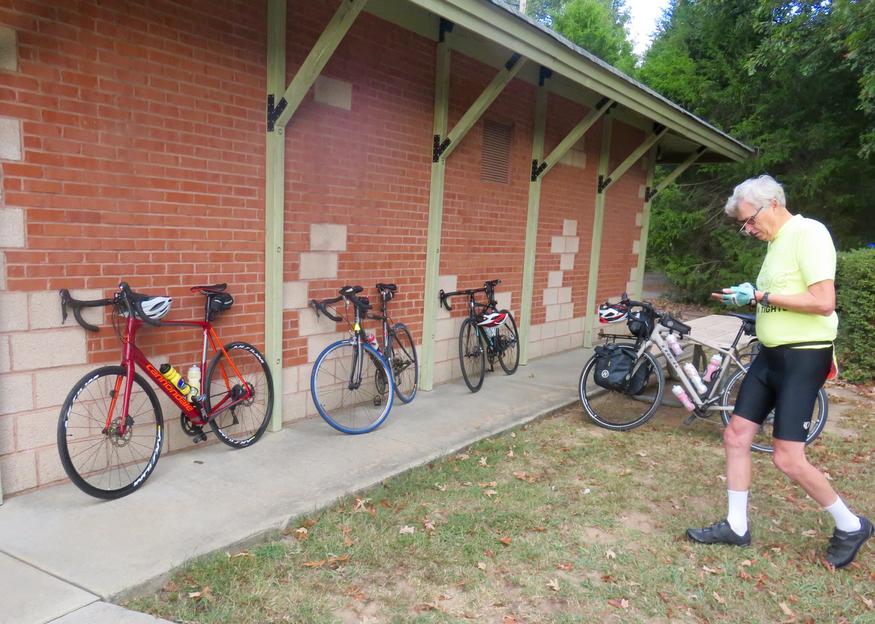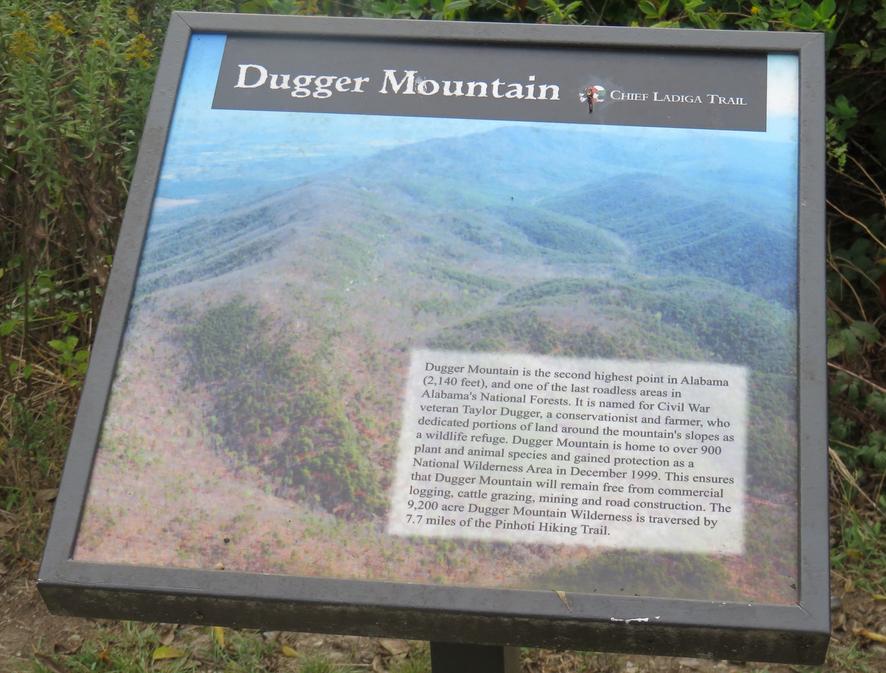 We debate what to do after losing Bill Reeves on the Silver Comet Trail. He had trouble with the chain on his bicycle.
The best views from the Chief Ladiga Trail lie between Piedmont, Alabama, and the Georgia state line.
I rode my partially loaded touring bike, the same machine I pedaled to Canada earlier this summer.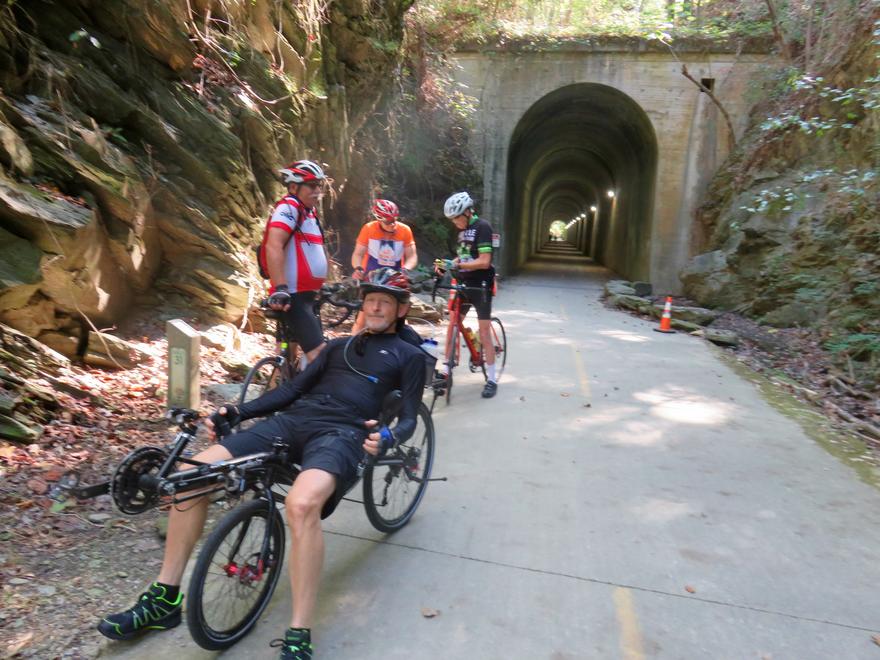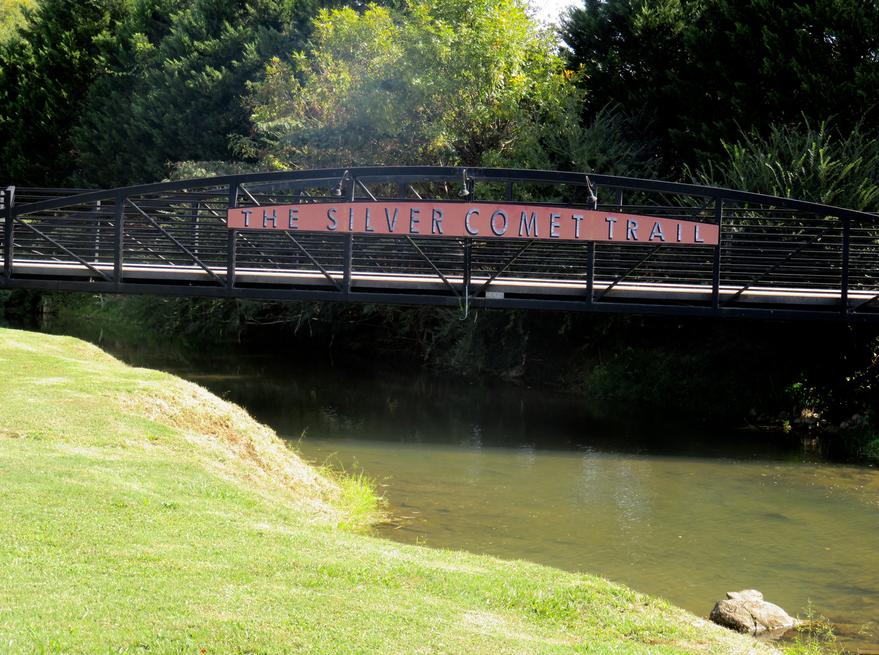 The Chief Ladiga Trail crisscrosses Terrapin Creek, opening views of some of the state's highest mountains.
I spend the night in Cedartown, Georgia, on the return trip to Anniston, Alabama.
Dugger Mountain is the second highest peak in Alabama. The Pinhoti Trail crosses the mountain and runs adjacent to a section of the Chief Ladiga Trail.
The OFBC has lots of stories, including the time they rode with former Tour de France champion Greg LeMond, center.
Old Farts, bees fly


down Silver Comet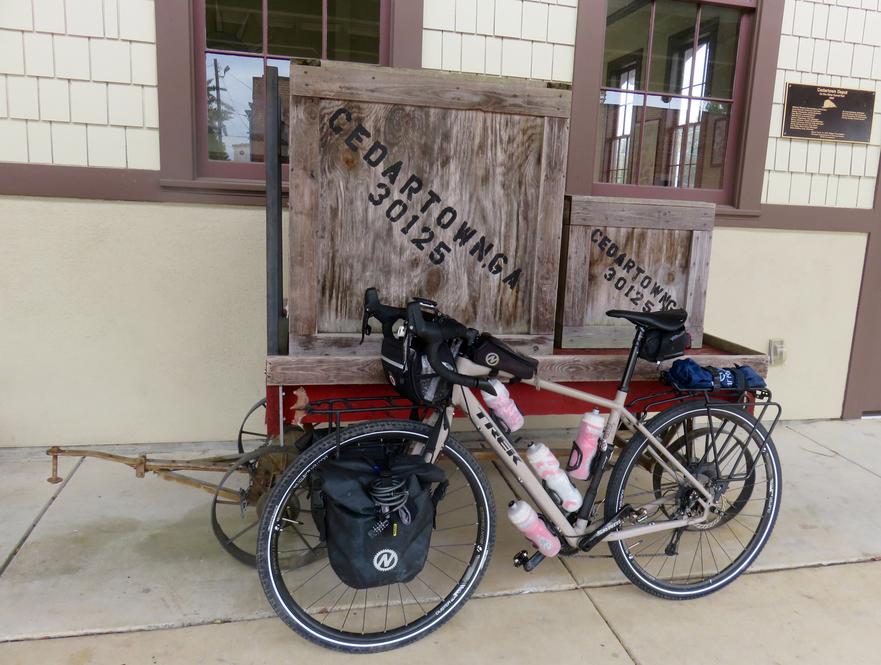 Tree roots are pushing up the pavement on some sections of the Chief Ladiga Trail, causing rough bumps.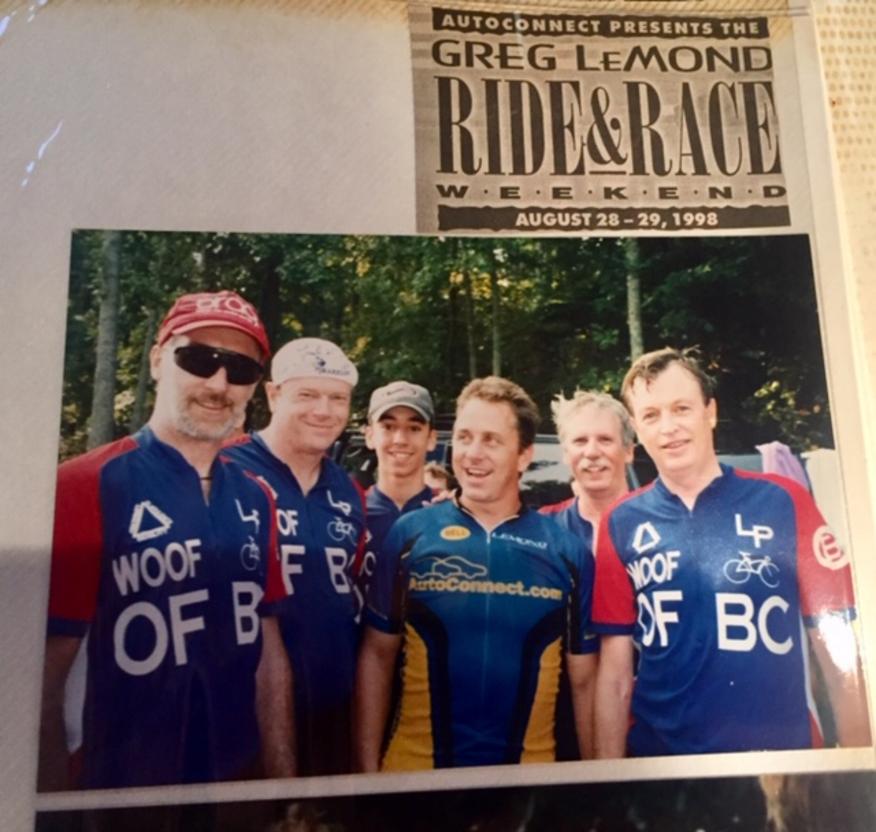 A kudzu patch along the Chief Ladiga Trail near Jacksonville, Alabama.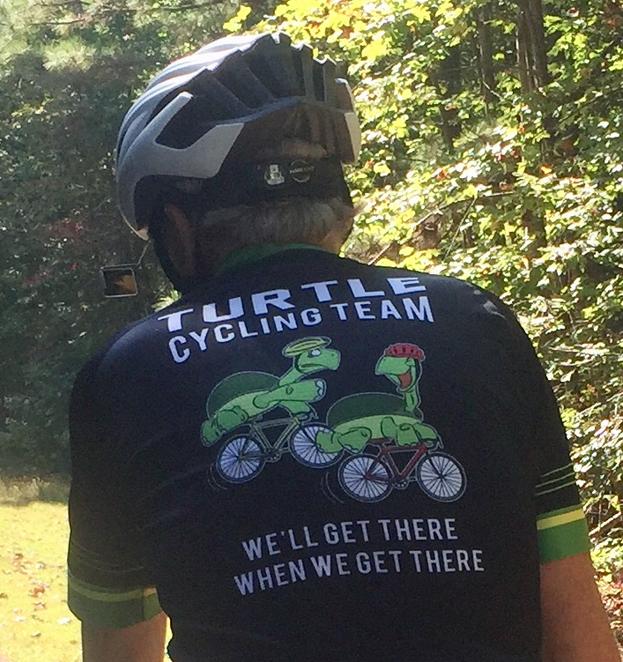 Ray Davis displays the OFBC motto. No one can accuse these guys of lacking a sense of humor.
The first 25 miles are mostly flat, taking the rider through kudzu jungles, past white cotton fields and near some of the highest mountains in the state. The Jacksonville Depot is a great place to stop for a break and refill water bottles. Then, the path goes through the Jacksonville State University campus, where students can rent a Veocycle, a bright green cruiser that unlocks when you scan a QR code on your phone.

I stopped for about an hour at the Baptist Campus Ministries to visit an old buddy, Gary Brittain. We could have spent the day catching up on life since college, but I had to get going to beat sundown.

At about the 20-mile mark, the Piedmont welcome center offered another good place to rest and rehydrate.

Fall is a great time to cycle eastward from Piedmont to the Georgia state line and take in the autumn foliage. This part of the path passes Dugger Mountain, the second highest peak in Alabama and one of the few remaining roadless areas in the state. Then the trail ascends a long but gentle slope through remote forestland, crisscrossing scenic Terrapin Creek on old railroad bridges. This section reminds me of hiking along the Appalachian Trail, and in fact the rugged Pinhoti Trail runs adjacent to the Chief Ladiga Trail here.

After about 33 miles, the Chief Ladiga ends at a picnic area at the Georgia state line, where it becomes the Silver Comet Trail. Beware, there is no water source at the state line, so carry plenty of fluids from Piedmont.

The Silver Comet is twice as wide as the Chief Ladiga and is in much better condition. The cement surface seems to block the tree roots better than asphalt and makes for a smoother, safer and faster ride.

The fine scenery and easy pedaling continue into Georgia until you reach Cedartown, where you can find restaurants, hotels and a depot with cold water.

Most rails to trails offer easy grades even through the mountains because they were designed for trains, but the trail between Cedartown and Rockmart departs from the old rail line and has one short, steep climb after another. The hills were challenging on a partially loaded touring bike, but I managed to get through them without walking.

After 59 miles, I stopped for the night in Rockmart at a relatively new Econolodge. Following a shower, I walked about a half mile to the Waffle House for steak and eggs. The ride-hotel-restaurant routine made me feel like I was back on my long-distance tour to Canada.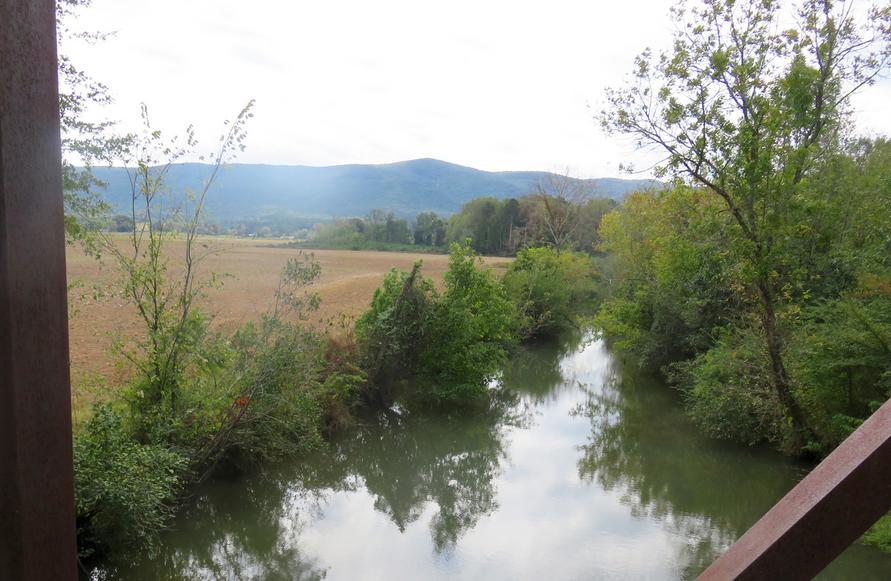 OFBC member Ray Davis gets ready to ride west from Marietta, Georgia, on the Silver Comet, a rails-to-trails pathway.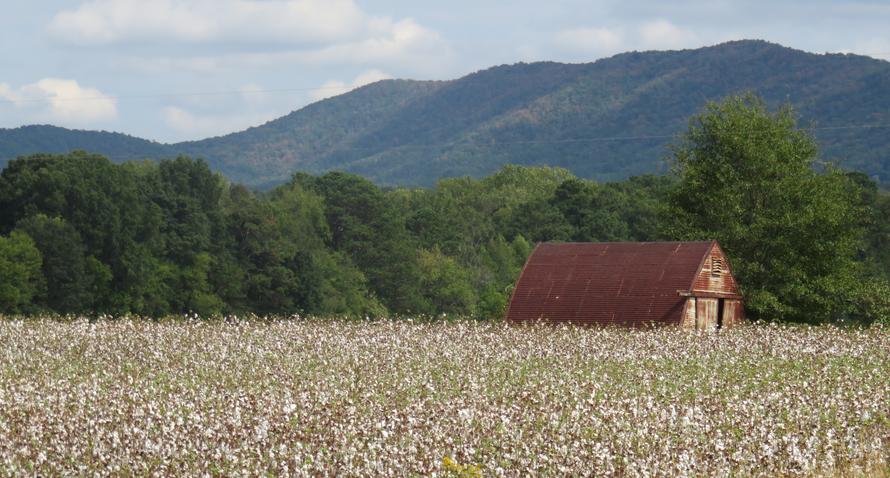 The Chief Ladiga Trail is half the width of the Silver Comet, but that's OK. There isn't as much traffic.
Day 2
Rockmart to Marietta
32 miles

The plan for today was for the OFBC members to pedal toward me from Marietta as I rode toward them from Rockmart. We would rendezvous somewhere in between, possibly at Coots Lake. The thought occurred to me that Old Coots Bicycle Club might have been a more respectable name for our ostentatious group.

I rode another beautiful stretch of trail, passing through forestland and pastureland, with low mountains in the distance. The OFBC guys weren't at Coots Lake, so I kept riding east and passed through an old railroad tunnel, which was cool.

About three miles past the tunnel, I spotted the Old Farts headed my way, with Ray in the lead. We stopped for a few minutes of good-natured banter. The guys wanted to ride through the tunnel, so I turned around and pedaled back west with them.

I laughed as I noticed Ray's jersey featuring the Turtle Cycling Team and logo: "We'll get there when we get there."

The logo gave me relief. I hoped an easy social ride would help me recover from the steep hills and almost 60 miles the day before. But the turtle logo was a lie.

Ray and Wayne seemed to be in a race at the front of the peloton. From the saddles of their lightweight carbon-fiber machines, the riders gave me more than I wanted on my heavy touring bike. So, I backed off and rode with club members Charlie Holbrook and Bill Reeves, who were pedaling at a more casual pace.

After the tunnel, we turned around and headed to the cars at the trailhead near Marietta.

Charlie and his wife, Janet, were kind enough to let Ray, Bill and me crash at their house, where the OFBC gala reunion was planned for that night. In all, we had 27 people at the banquet, including members, spouses, children and grandchildren. I enjoyed thumbing through old photos of the group's past adventures, including a picture of them with former Tour de France champion Greg LeMond.

Charlie and I compared notes from our long-distance adventures. He has ridden from Yorktown, Virginia, to San Francisco on a van-supported group tour.
Day 3
Marietta to Cedartown
40 miles

After breakfast, we loaded the bikes and drove back to the trailhead for a group photo. Most of the guys wore cycling jerseys with the OFBC motto: Fraternity, Flatulence, Senility.

Yes, we are a proud group.

After the photo, the cyclists, who now included children and a granddaughter of the older members, were going to ride part of the way toward Cedartown with me and then return to their cars. But the group support didn't last long. We lost Bill, which led to a rolling debate about whether to go back and check on him.

At the front of the pack, the previous day's race between Wayne and Ray resumed as we pulled farther away from poor Bill. Ray joked that the OFBC has a tradition of every rider for himself.

But Charlie reminded us that he is a former Marine and doesn't leave any man behind.

Eventually, this moral conundrum led us to pull over and wait for Bill. But Bill never arrived, so the OFBC turned around and rode back to look for him. (Turns out he had problems with the long chain on his recumbent.) I kept going west, however, since I had a hotel reservation in Cedartown.

The Silver Comet Trail was crowded with hundreds of Saturday riders, walkers and joggers, but the wide pathway provided plenty of safe places to pass.

The terrain is friendlier riding east to west, with more miles descending than ascending. But there were still plenty of short, steep climbs.

I arrived midafternoon at Cedartown and checked into the Quality Inn. After a weekend of socializing, my introversion kicked in and I didn't feel like going out again. I ordered pizza delivery and watched SEC college football until LSU put Florida to bed.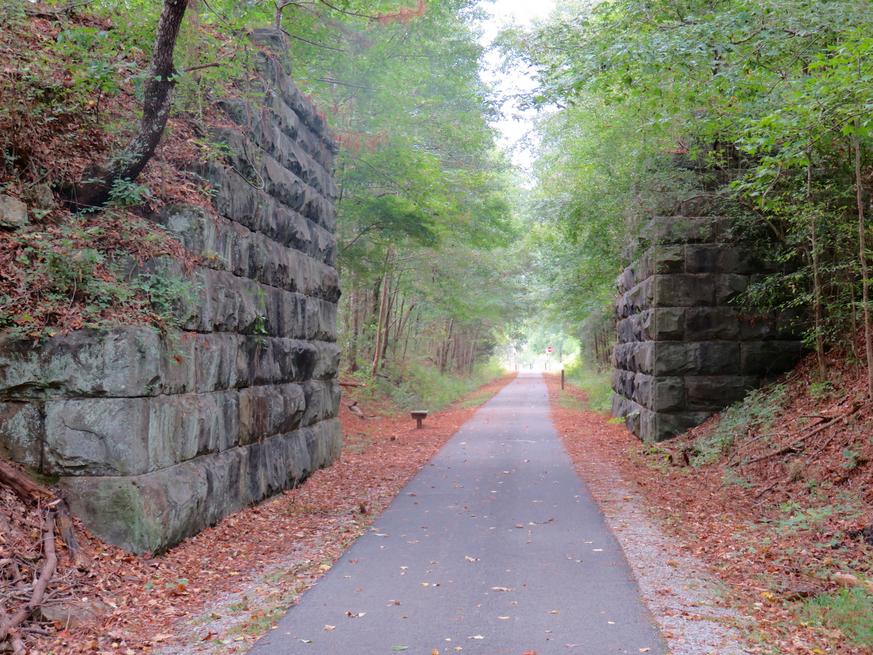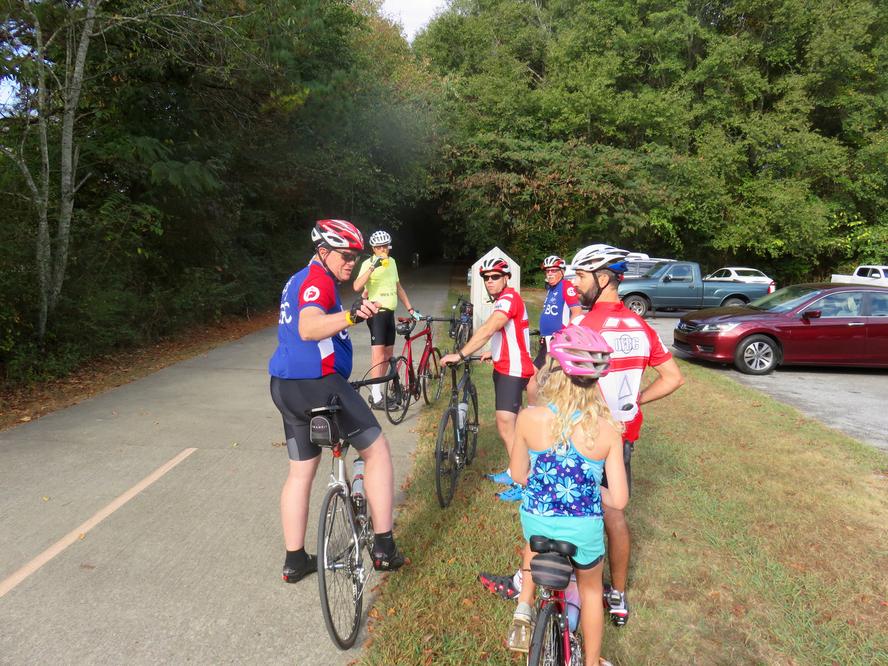 A stream crossing on the Silver Comet Trail along the riverwalk in Rockmart, Georgia.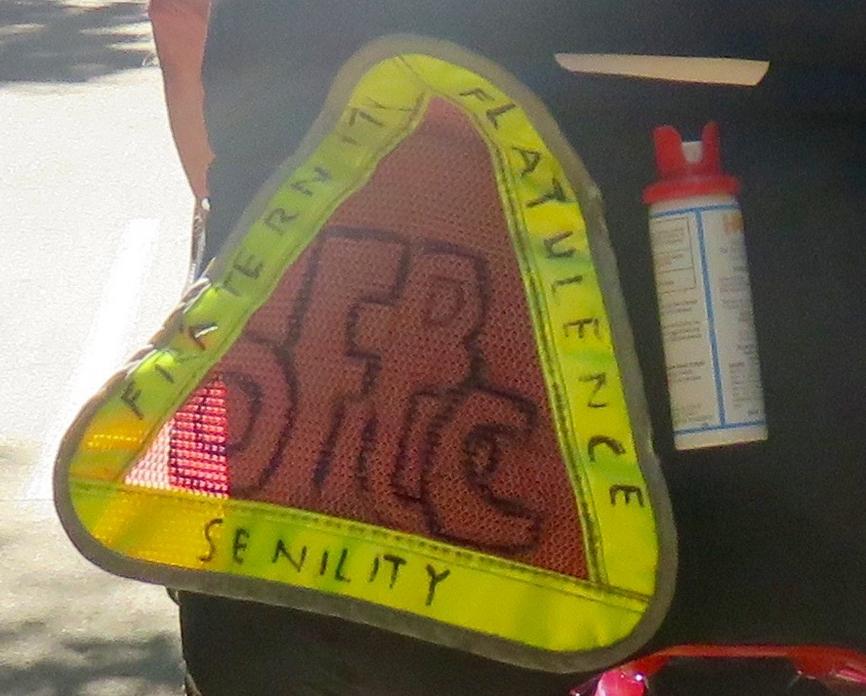 Founding members of the OFBC, Bill Reeves on his recumbent, Wayne Williams, Charlie Holbrook and Ray Davis at an old train tunnel on the Silver Comet Trail in Georgia.